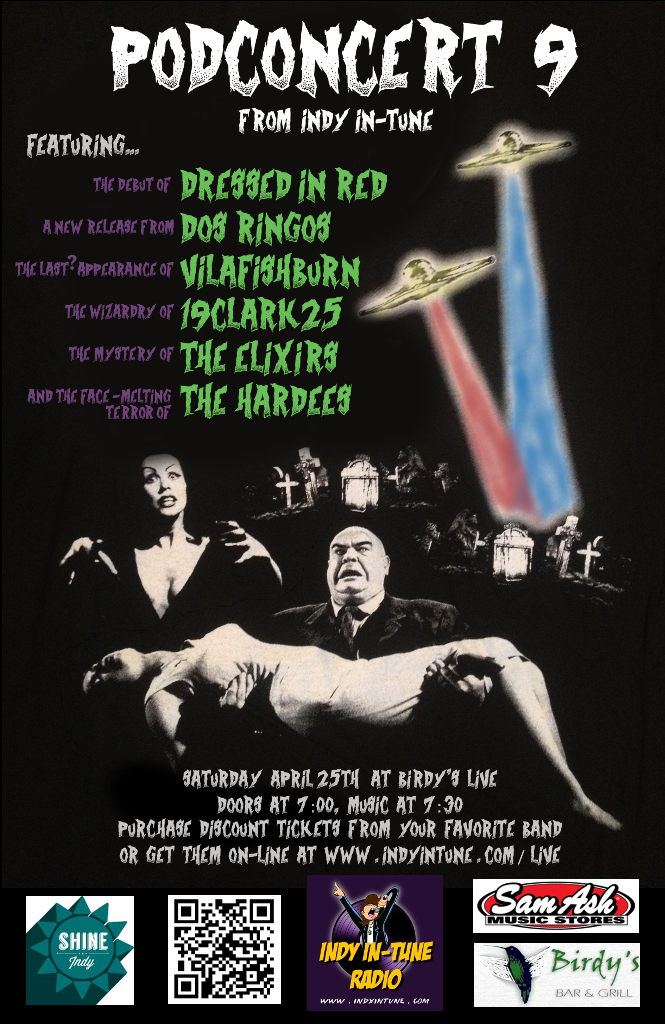 Our Biggest Showcase Yet
Okay, folks this is the big one: We've got debuts, farewells, new music releases, and plenty of great music.
We kick it off with the first full performance of an exciting new band, Dressed in Red. They're quickly followed by the rarely-seen Dos Ringos releasing some new music. Then it's quite possibly the final performance of long-time veterans VilaFishburn. After that the real party kicks off with the wonder that is 19Clark25, some high-energy psychedelic country/punk from The Elixirs, and fan-favorie The Hardees
Plus, we're planning a few surprises ... you know, so you don't make the mistake of thinking this is just another showcase.
Call your babysitters, book your rooms, put some money for bail in your left sock, and make plans now to support your local music scene and be a part of this great night of music and talent.
And remember: The party continues on Sunday morning when we kick of our 2015 all day charity radiothon on the deck at Sabbatical. So, just block the whole weekend off."
---
Keep up with all the latest updates on the FaceBook Event Page.
---
Tickets Available Now
Only a limited number of tickets will be sold for this event. Once they're gone, you'll just have to read about it in the papers or get one of your friends to take pity on you and regale you with tales of the evening. So how do you get in on the action? Easy.
Support your favorite artist by purchasing tickets directly from them.
Support all of the artists by purchasing advance discount tickets via Paypal below.
Listen to Indy In-Tune Radio for your chance to win free tickets.
Know the secret elite club password or one of the other tried and true methods for conning free tickets out of Darrin.
Pay face value plus 39% in convenience fees and take money directly out of the mouths (and gas tanks) of musicians by purchasing tickets at any Ticketmaster outlet or via Ticketmaster.com. (Seriously though, don't choose this one, that would be stupid.)
Introducing Black Market Binary at Podconcert #3. Indy In-Tune brings together a ukelele-playing folk/rock songwriter and a rock/rap artist and producer to form an experimental electronic/industrial band.
The Podconcert Series
Our Podcast Concert series is all about crossover. Each showcase takes six acts with a slightly different, but relatable, style and audience. The goal is to build enthusiasm with a rich bill of talent, introduce similar bands to each other, and hopefully, intermix and introduce audiences to bands they may like, but would not otherwise have heard play -- all for a reasonable cover charge at a top-quality venue.
Showcases generally include acoustic solo singer/songwriters, small groups, and full-blown electric bands playing anything from folk-rock, to mainstream pop, to hardcore hip hop and punk (depending on the night -- check the links on this page if you're concerned about what you might be getting into). The typical audience is a mix of all ages and walks of life, just as the bands are usually a mix of up-and-coming artists and long-time veterans of the scene. Like Indy In-Tune Radio, the host and primary sponsor of the event, you may not know what the next act will bring, but you can be assured it is local, original, and high-quality.
We are always looking for artists to play on future shows and would love to hear about your music. So, here's the business side of things...
All genres and levels of experience will be considered. Your ordering in the lineup will be determined by these factors.
You are asked to play a 40 minute set of all original music. The bill is full and it's a very tight switchover, so it is especially important for these gigs that you be ready to play on time and do not play over your allotted slot. The exception is the last band of the evening, who is traditionally allowed to play as long as they like, and as long as people are still getting into the music.
This is a paying gig. Your payment will be the sum of your ticket sales (you may charge whatever you like for individual tickets) plus 1/6th of the door admissions collected after house fees are covered.
Indy In-Tune will provide posters, calendars, and event pages for you to use.
You are asked to help promote and bring people of your own to add to the crowd we have already built for these shows.
You are free to sell your own CDs and other merchandise at the show.
Indy In-Tune will record and edit all performances for future broadcast or podcast downloads.
If all of the above sounds reasonable to you, then please fill out the form below and introduce yourself.

To get started, use any of the links in this section. Be sure to bookmark the link or click the "Follow" button below (if you're using TuneIn) for easy access next time.



If all of the above fail, click here.
Indy In-Tune is proud to be aligned with, partnered with, or sponsored by the following fine companies. Please thank them on behalf of Indy In-Tune for their generosity and support of Indianapolis' local music scene.